Il noto player multimediale VLC, conosciuto anche con il nome di VideoLAN, si è aggiornato alla versione 2.0 per le più note piattaforme (Windows, Mac OS X e Linux). VLC Media Player 2.0 è compatibile con la maggior parte dei formati video disponibili e supporta i Blu-Ray (con possibilità di riprodurre filmati in alta definizione).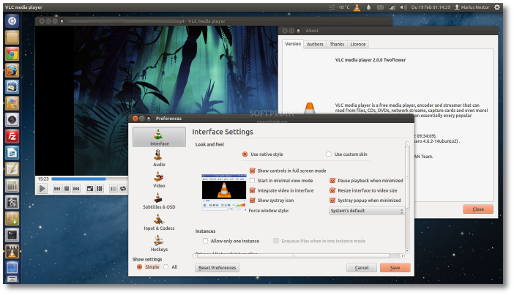 Tra le novità più interessanti, oltre che l'aggiornamento dell'interfaccia utente, segnaliamo:
Video:
· Support for subpicture blending in GPU;
· Support for Shader in the OpenGL output (for colorspace conversion, including 10-bits);
· Added new video outputs for iOS, Android, Windows 7, and OS/2;
· Added denoising, debanding, anti-flickering, grain, and deinterlacing (includes Inverse Telecine algorithm) filters.
Audio:
· Higher quality audio;
· Added karaoke and dynamic range compressor (DRC) filters;
· Faster processing through simplification of the audio core;
· Added audio outputs for iOS, OS/2, and Android.
Formats:
· Support for multi-threaded decoding for MPEG-4/Xvid, WebM and H.264;
· Support for 10-bits codecs;
· Improved image support, including png, jpeg, bmp and xcf;
· Better support for Real and RealVideo formats;
· Support for Android OpenMAX and CrystalHD cards hardware decoding.
Input and Devices:
· Support (experimental) for Blu-Ray discs (menus are deactivated and there are no BD+ DRM and AACS libraries and keys, for legal reasons);
· Support for QTKit devices and SDI capture cards;
· Support for DASH and HLS adaptive streaming protocols.
For professional Users:
· Support for AVC/Intra, ProRes 4444 and 422;
· Support for DNxHD/VC-3 and Jpeg-2000 in 10-bits;
· Support for EIA-608 and EBU subtitles (stl);
· Linux support for HD-SDI and SDI cards;
· Added a faster Dirac/VC-2 encoder.

For Anime Fans:
· Better MKV demuxer;
· Better support for ASS subtitles;
· Support for ordered chapter files;
· Revamped linked segments;
· Improved support for RV, Hi10p and FLAC in MKV;
· Improved seeking support in CUE files.
E' possibile effettuare l'aggiornamento dell'applicazione dal sito ufficiale o scaricando l'update dalla vostra vecchia versione di VLC.