Sul forum XDA è stato reso disponibile un nuovo Toolkit espressamente pensato per il nuovo smartphone Nexus 4 di casa LG, in grado di eseguire con estrema facilità operazioni come unlock, root, backup e tanto altro.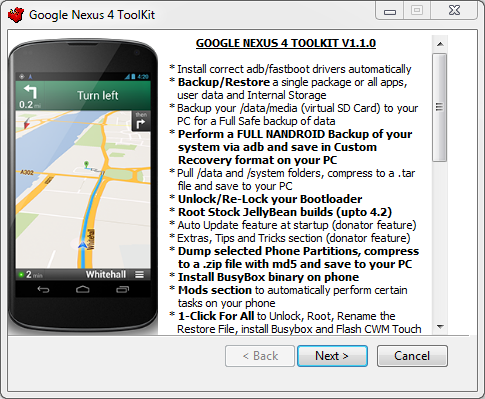 L'applicazione, disponibile gratuitamente sul forum XDA, risulta tra le più complete del suo genere; di seguito tutte le features disponibili:
* Install correct adb/fastboot drivers automatically on Windows xp/vista/7/8 32bit+64bit
* Backup/Restore a single package or all apps, user data and Internal Storage
* Backup your /data/media (virtual SD Card) to your PC for a Full Safe backup of data
* Unlock/Re-Lock your Bootloader
* Root Stock Jelly Bean builds (upto 4.2.0 JOP40C)
* 1-Click For All to Unlock, Root, Rename the Restore File
* Perform a FULL NANDROID Backup of your system (Boot, Cache, Data, Recovery and System) via adb and save in Custom Recovery format on your PC which can be Restored via CWM Recovery
* Pull /data and /system folders, compress to a .tar file and save to your PC
* Dump selected Phone Partitions, compress to a .zip file with md5 and save to your PC
* Install BusyBox on your phone
* Extras, Tips and Tricks section available to all ToolKit Donators
* Auto Update ToolKit to latest pushed version at startup (donator feature)
* Program up to 10 Quickpic slots and run them very quickly (donator feature)
* Mods section to automatically perform certain tasks on your phone
* Download Google Stock Image directly to correct ToolKit folder for extracting and flashing (no need to move it manually anymore)
* Flash Custom Recovery or Google Stock Image to phone
* Rename the Recovery Restore File present on some Stock Roms
* Boot into CWM Touch Recovery without Flashing it
* Boot or Flash .img Files directly from your PC
* Install a single apk or multiple apk's to your phone
* Push Files from your PC to your phone
* Pull Files from your phone to your PC
* Dump selected LogCat buffers to your PC
* Dump BugReport to your PC
* Set Files Permissions on your phone
* Open new Command Prompt for manual input
* Reboot Phone to Fastboot Mode or Android from fastboot mode
* Reboot Phone to Fastboot Mode, Recovery, Android or Download Mode from adb mode
Oltre che la versione gratuita, è disponibile anche la versione "DONATE" con maggiori funzionalità. Maggiori dettagli disponibili sul Thread Ufficiale XDA.