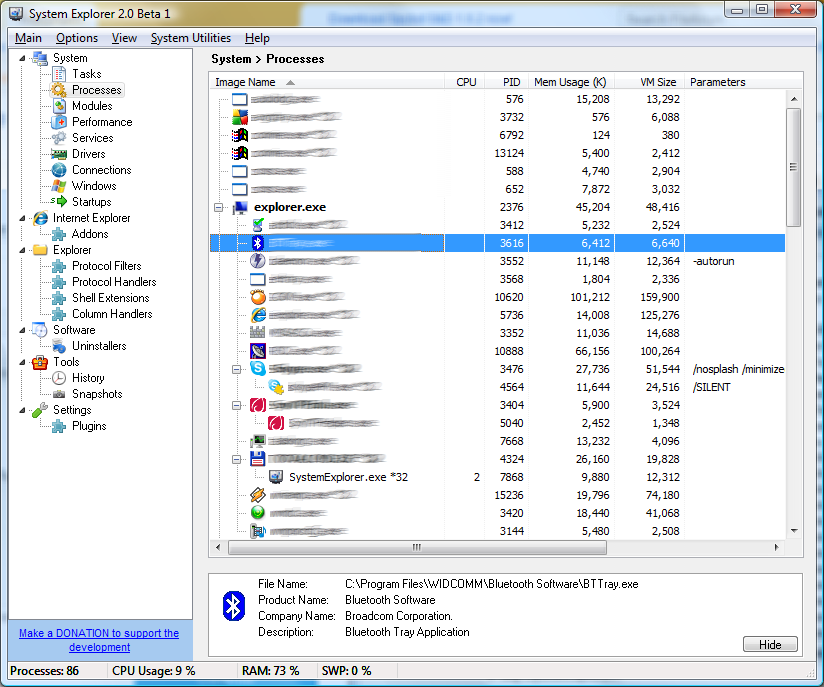 Esistono moltissime alternative al classico Task Manager di casa Windows; tra queste vi segnaliamo l'ottimo software System Explorer, completamente gratuito e ricco di funzioni. Grazie alla pratica interfaccia sarà possibile analizzare tutte le applicazioni in esecuzione sul proprio PC con relativa percentuale di utilizzo, memoria fisica disponibile, performance, driver installati, possibilità di gestire le applicazioni disponibili al primo avvio e inoltre disinstallare i programmi non più utilizzati.
System Explorer integra un ottimo tool per l'analisi di file sospetti, supporto multilingua (disponibile anche la localizzazione italiana) e possibilità di verificare online file sconosciuti. Di seguito la lista completa delle features disponibili:
Detailed informations about Tasks, Processes, Modules, Startups, IE Addons, Uninstallers, Windows, Services, Drivers, Connections and Opened Files.
Easy check of suspicious files via VirusTotal or Jotti service.
Easy search details about file/process via online databases.
Launcher ("New Task…" dialog) with integrated AutoSearch and AutoCompletion.
Action History for monitoring processes activities.
Performance graphs for monitoring usage of system resources in time.
System Snapshots for easy finding of system changes.
System Report builds rich text report containing major informations about your System.
Multilanguage and Plugins Support.
Security feature with online File Reviews.
WMI Browser and System Additional Info
**NEW** Brand New Tray Hint with detailed System and Battery status
Per il download del programma potete fare riferimento al seguente link.